I've spent a lot of time in prison. Not as an inmate, but instead coaching inmates, helping them craft their personal stories. Stories destined to land on a stage at TEDxDonovanCorrectional in 2017 and 2018. Donovan Correctional Facility is a California State prison, located at the very southern edge of San Diego County, overlooking the international border shared with Mexico.
To say that the experience was profound would be an understatement. Many of these men had spent the majority of their adult lives incarcerated, which in the beginning led me to question whether they had much in the way of wisdom to share with an audience. But over a two year period I continued to be impressed by the insights, the compassion, and the empathy that formed the foundation of their stories. If I had been talking to them on the phone, I would have assumed they were college educated.
The Longform Interview
So when I read the description for the Longform Podcast with Tessie Castillo and George Wilkerson, I dropped everything to have a listen. While I had heard many stories from prison, none of those stories had come from inmates on death row.
"I want other people to see what I see, which is that the men on death row are human beings. They're incredibly intelligent and insightful and they have so many redemptive qualities…I don't think I could really convey that as well as if they get their own voice out there. So I wanted this book to be a platform for them and for their voices."
–Tessie Castillo

"For me, writing was like a form of conversation with myself or with my past, like therapy. So I just chose these periods in my life that I didn't really understand and that were really powerful and impactful to me, and I just sat down and started writing to understand them and make peace with them."
–George Wilkerson
Instead of the usual format, whereby host Aaron Lammer interviews an author, in this case Tessie Castillo, the twist to this episode was calling death row inmate George Wilkerson to bring his voice from inside prison to the outside world.
As often happens in life (I could never have predicted that I would spend time coaching inmates inside prison) Tessie had no connection to death row or the death penalty when she met someone at a Super Bowl party who happened to be a psychologist working with death row inmates at a prison in Raleigh, North Carolina.
When she found out that the new warden was permitting classes on death row, Tessie applied to teach a journaling class. Her discovery of who these men had become was similar to my own. It would behove you to spend 43 minutes listening to the interviews. You'll come to view men on death row in a new light.
Essays From Death Row
Beyond the Longform podcast, and the basis for the conversation, was the book Crimson Letters: Voices from Death Row, written by Tessie Castillo and death row inmates: George Wilkerson, Terry Robinson, Michael Braxton, and Lyle May.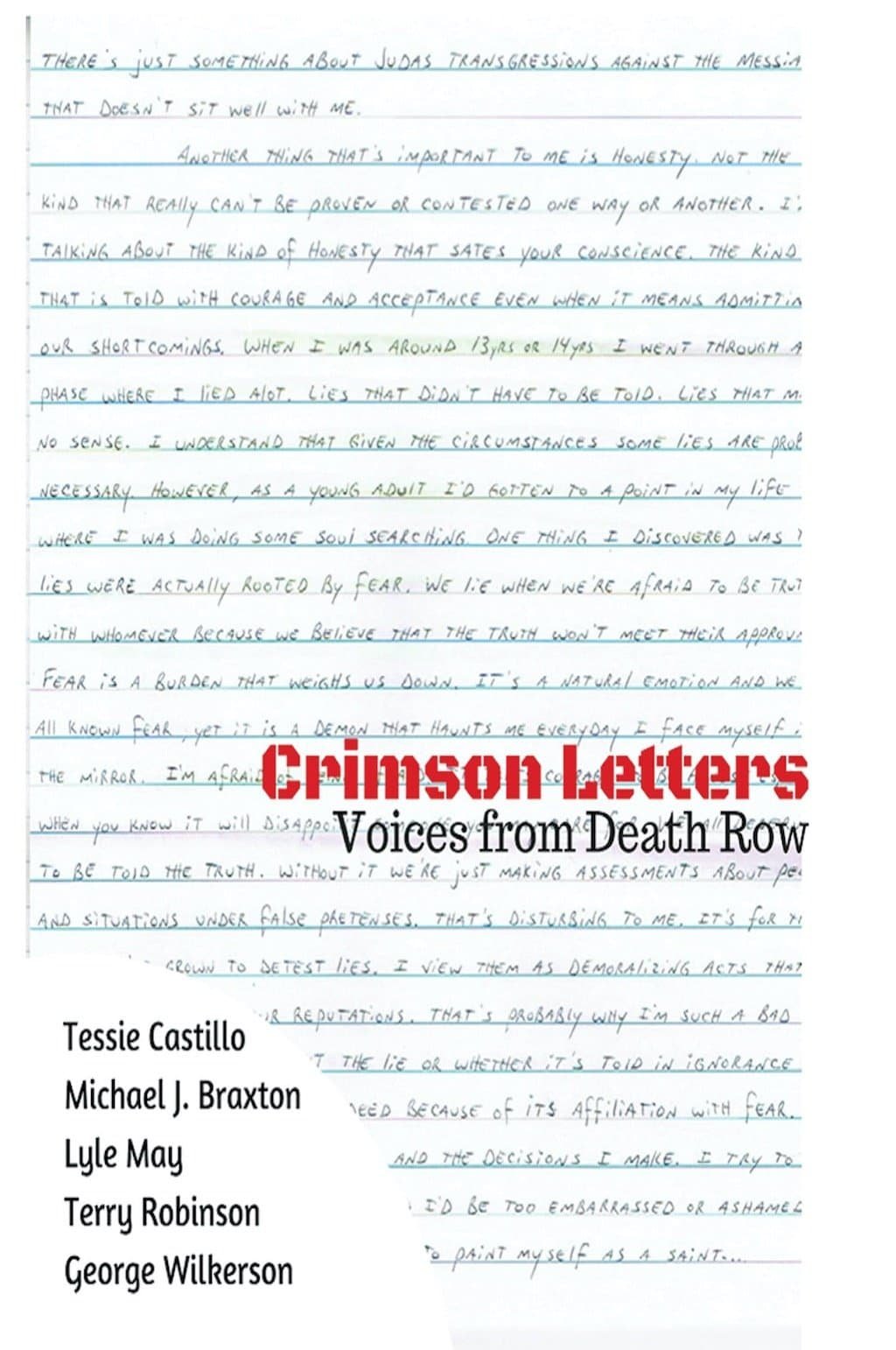 Through thirty compelling essays written in the prisoners' own words, Crimson Letters: Voices from Death Row offers stories of brutal beatings inside juvenile hall, botched suicide attempts, the terror of the first night on Death Row, the pain of goodbye as a friend is led to execution, and the small acts of humanity that keep hope alive for men living in the shadow of death.

Each carefully crafted personal essay illuminates the complex stew of choice and circumstance that brought four men to Death Row and the cycle of dehumanization and brutality that continues inside prison. At times the men write with humor, at times with despair, at times with deep sensitivity, but always with keen insight and understanding of the common human experience that binds us.
Beginning with the journaling class that she started, Tessie frames the narrative from the perspective of someone who has walked the halls and forged story-based bonds with the men. The series of essays that comprise most of the book take you inside the hearts and minds of these inmates, as well as take you back in time to share the trauma of their childhood experiences.
After spending time with these men and listening to their stories, I don't claim to know them thoroughly or to fully comprehend why they did what they did. Nor do I defend the crimes of any many on Death Row…But I will defend their humanity because I see it every time I walk through those prison doors.
–Tessie Castillo, excerpt from the Raleigh News & Observer, May 2014
It took me back to my time at Donovan, hearing about lives so different than my own, making it difficult to predict how I would have acted in such circumstances, how my life would have turned out. It's not a matter of blaming others, or wanting a hall pass for mistakes, but the harsh reality is that downward spirals are challenging, even for the best of us, especially when navigating through a turbulent world of drugs, crime and violence.
The spankings had started a year before our mom left. At first it was just a few pops on the butt every couple weeks or so. But as time went on, the slaps hardened and became more frequent, the bruises took longer to heal. Then he began whipping off his heavy leather belt and the slaps turned into punches that cracked bones.
–George Wilkerson
One of the most difficult aspects of spending sixteen years on Death Row is being stowed away from the outside world. Unlike other facilities, Death Row implements a measure of isolation that wedges a gap in the mental evolution of its denizens.
–Terry Robinson
Our culture was built on three main pillars: Fightin', stealin', and gettin' drunk. Fightin' was a rite of passage and it determined your position in the hood hierarchy. The better you were at fightin', the higher your status.
–Michael J. Braxton
In prison, night's hourglass has extra holes in it. When sleep comes, gone are the plodding daylight hours, confining walls, and thoughts of letters. Sleep is relief for most of us. With this blessed comfort comes dreams of love, companionship, and peace. Desires glow so vivid and deep that reality is a disheartening comparison. Sleep cannot be degraded, beaten or chained. In sleep lies our freedom.
–Lyle May
"I believe that little separates people inside Death Row from those outside it. We are all a complex jumble of hopes, dreams, virtues and mistakes. We strive to be better people. We often fail. Being human is learning to rise again – as these me do, despite the odds – to prove we are more than our worst crime."
–Tessie Castillo
Time to Reflect
While there is a dark sadness within some of the pages, there is also bright joy that comes from these four big hearts. And though it may not be an intuitive conclusion, as I finished the last page the notion occurred to me that these men have learned more about themselves, and applied that learning to become far more compassionate humans than most of us ever will while we blissfully enjoy our 'freedom'.
Death Row isn't a place that lacks humanity, like some people say. It is where humanity is rediscovered and restored. On Death Row the meaningfulness of life tremendously exceeds the inevitability of death. We are all human beings and as such we're prone to mistakes, but many inmates are simply paradigms of the great fall before triumph. Our humanities are not beyond repair and any judicial system that conceptualizes such nonsense is flawed. To give up on a person's humanity says a lot about our own. We can never fully share in the humanity of others until we have recognized and repaired our own tendencies towards cruelty and unconscious bias. This means forgiveness, accountability, faith, and in many cases a second chance. No matter our personal or collective opinions, no one will ever deserve to die.
–Terry Robinson

Subscribe to our newsletter for the latest updates!

Copyright Storytelling with Impact – All rights reserved